Yeah "Incredible India" campaign for Pondicherry says this & it's a very right statement for Pondicherry aka Pudducherry "Give time a break"… Got this t-shirt in Pondicherry from one of the Incredible India stalls…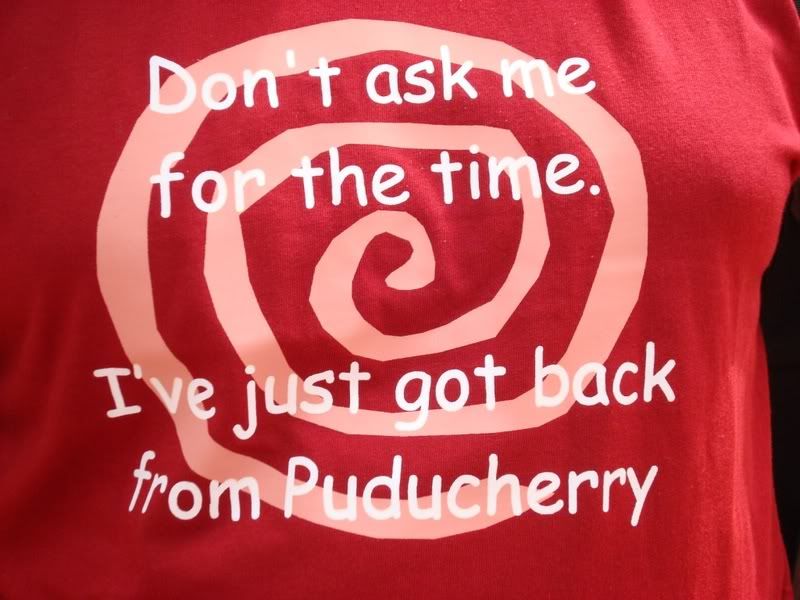 Well, we both were just dead-tired of our hectic work life for past so many days…n it was over four months that we were planning to go on a long drive. But of course work pressure and our series of official tours were not allowing us to do so. Finally last Friday we suddenly thought to go somewhere even if it meant no good hotel bookings anywhere (thanks to Bangalore and Bangaloreans' weekend trips that getting good hotel rooms during unplanned weekend trips is a rarity). After debating on few places we finally zeroed on Pondicherry… but yeah pondicherry meant one more day apart from weekend… hmmm. Shall we try our luck with our bosses for one extra day off? Afterall we have been working on so many weekends since long. We tried & here we go, we managed to get that 1 extra day off on Monday and so we were all set for Pondicherry next morning.
Plan was to start at 6:30 am on Saturday morning, but hee hee hee me and my sleeping habit, we finally started at around 8:30 am in the morning, route was pretty simple and we had taken printout of route available on net, so it was quite easy to drive ahead. And I must say that drive was just awesome, it's a delight to drive on Hosur-Krishnagiri road for all those who enjoy driving. It took us five and half hours to reach Pondicherry and we finally settled at a nice
beach resort at ECR road
. Oh whosoever said Pondicherry beaches are not good are just fools… well I agree it's surely not like Goa but it definitely is a cool place for enjoying those peaceful mornings and silent evenings near the sea.
Other attractions of Pondicherry are serene Aurobindo Ashram, astounding Auroville, beautiful French colony & yummmmy sea-food!!!
Oh it's a foodie's delight to eat those amazing delicacies… me n hubby were just not getting tired of eating J… and yeah last but not the least shopping, hmmm now this was so much fun that this itself can be a topic of another full post from me. Finally after all that masti for next two days, we drove back to bangalore on Monday afternoon. For other travel related details, you can read my
travelogue here
.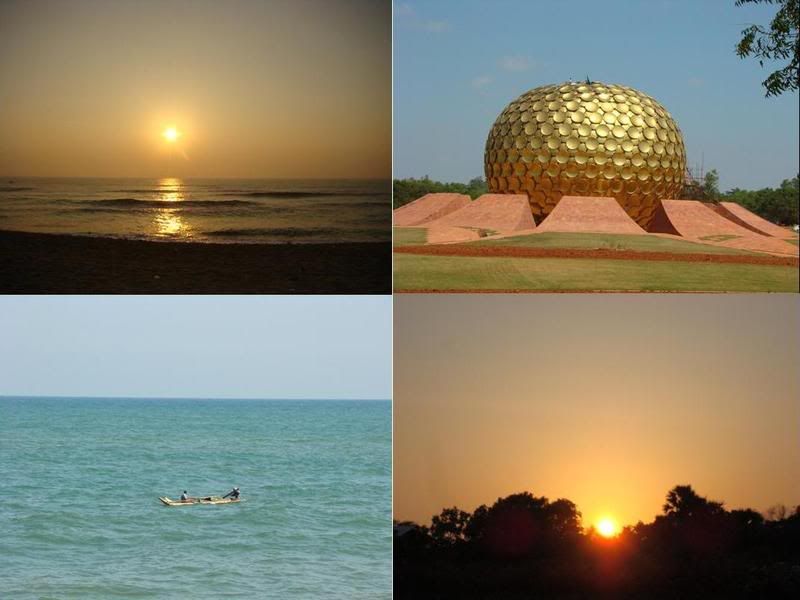 Overall, we had a great time far away from the city traffic and terribly hectic work life of ours, no laptop and no phones for three days :-). It was a perfect place for lazy weekend and relaxed time. We finally did manage to give time a break for three days!