That Special Weekend...
Have been planning to post this for quite sometime now but last few weeks have been hectic enough to do anything else. Well professionally and personally things are moving quite optimistically and work wise my new promoted role with larger responsibilities since last one and half month has been quite interesting and stimulating for me (TOUCHWOOD!). Got to do lots of interesting stuffs and I am enjoying every bit of it till today (hee hee hee, knowing me one may never know when I can get bored of anything including my job) except that this is really-really hectic and frenzied with quite some traveling too. But guess one has to pay this price in terms of schedule and time. But amidst all this, I had managed to sneak a very special weekend this month, thanks to planning and preparation of hubby dear :-) for my b'day which was luckily on a weekend this year.
We were getting that long drive itch since long esp. because our last drive to Pondicherry was in Feb'08. Hmmm considering our love for wheels, 5 months without any long drive is a long hiatus for us. Just one day prior to that weekend, hubby dear announced the plans for bday weekend and asked me to take Monday off so that we can have a 3 days weekend trip to Wayanad… Wayanad!!! My first reaction was full of exclamation marks and frowns, Wayanad in rains, now come on we all are aware of rains in Kerala esp. Wayanad where Lakkidi gets world's second largest rainfall and wherever we have read its always mentioned not to go to Wayanad during monsoons…But well he was insistent on the fact that kerala is very beautiful and lets go to Kerala again (we have already been to some other locations of Kerala like Munnar, Allepy etc immediately after our wedding and it was an awesome trip). And so finally out of the strong urge to visit Kerala again, I also agreed and I must say it was a wonderful decision that we made.
Saturday 12th July'08 we (me, hubby and one of our close friends alongwith his family) set on our jaunt to Wayanad…we started morning 6 am by fully loading our car with fuel, snacks, music and enthusiasm. The drive was wonderful and en-route we stopped at standard Kamat Loka Ruchi for a scrumptious breakfast, oh the idlis there are just so yummy…After clicking some pics here and there, we started again and the route was simply awesome, a driver's delight so to say. And one can't miss hubby's and his friend's fault finding in each others driving so that they get to drive through the maximum route possible… Hubby saying to his friend, "tujhe sharp turn theek se nahi lene aata, let me drive" and his friend replying "tera break pe control nahi rehta hai, let me drive" LOL! Here is one pic of the route to explain it further :-)…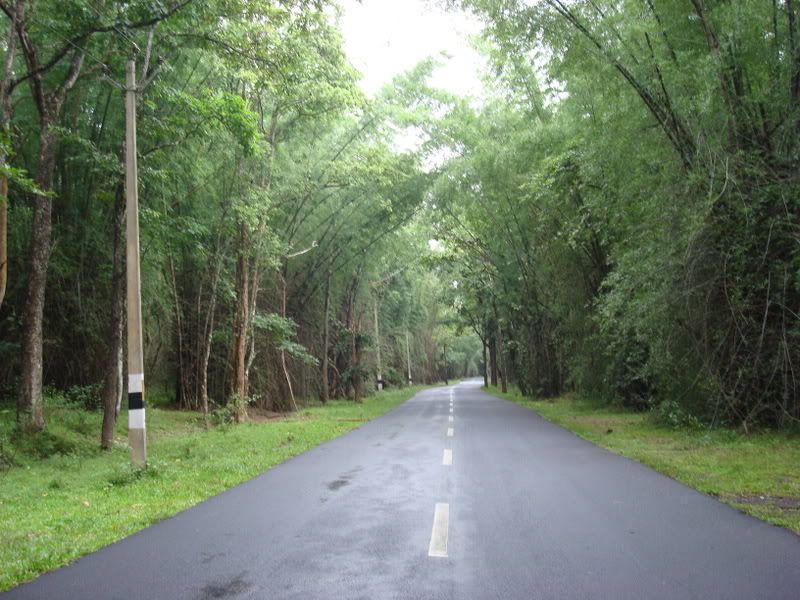 Finally we reached Wayanad in about five and hours drive and oh wow what a place it was! Truly mesmerizing…greenery all along, thick dense coffee plantations…fresh air and absolute serenity! After settling down in our resort we set to move around in Wayanad and the best part was that there was absolutely no rains except for some drizzle which made the weather all the more lovelier. In two and half days, we visited places like Phokoot Lake, Lakkidi Point, Soochipoora Falls, and Edekkal caves etc. Out of all these, most fascinating ones were Edekkal Caves simply because of its mysterious ancient culture and Lakkidi because of its breathtaking view. Here is a pic of Lakkidi point, I must have seen many rainbows earlier in my life but something as vibrant as this…never!!!
This pic immediately reminded me of a very old quote - "Life is like a rainbow. You need both the sun and the rain to make its colors appear", this rainbow at Lakkidi was so bright and vivid esp. because it was appearing on a varied background, half of the mountains were having rains and half were having sun. I just loved it! That whole two and half days kaise beet gaye pata hi nahi chala and Monday noon it was time for us to hit back to the road to Bangalore. The details of my overall trip from travel perspective is available on my travelogue and the same can be read there.
Overall a mesmerizing trip and very sweet weekend amidst all the frantic work life and I would recommend Wayanad to all those who enjoy spending some time in tranquility away from city chaos. And yeah lastly whosoever said not to visit Wayanad in July is ##@@!!. Trust me roaming and driving around in that lush green carpet of nature was truly and amazing and rewarding experience.