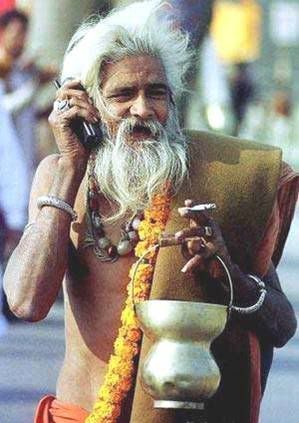 Well, I got this image as some funny mail forward but it immediately instigated me to think of this title which very aptly suits this image. This image is cool & thought provoking, isn't it? Hmmm…see the transmutation undergone by even Indian Sadhus, no more are they forest-meditating "Sanyasis" or "Tapasvis" (Priests) deprived of all worldly pleasure rather they have also evolved into modern Indian consumer utilizing all modern gazettes & gizmos, talking on Nokia 6270 & smoking Marlboros. Indian Consumer has changed a lot, & this evident change can be experienced everywhere now, be it the above image or any of these following indicators which are very much relatable to most of us:





From "Roti, Kapda aur Makan" to "Roti, Kapda, Makan aur Mobile". Well, now-a-days having a mobile is as important as having proper clothes to wear. The products which were luxuries for yesterday have become the necessities of today.






From "General Stores" & "Sabji Mandis" to "Big Bazaars" & "Food Worlds". Yes, the Indian Consumer is having the purchasing power now to enjoy the retail boom. The consumer now understands the concept like "Value for Money". Gone are the days when one used to hear negotiations like "Thoda aur kam karo, toh lenge (reduce the price, then I will take)", rather today's Indian consumer doesn't mind paying a few bucks extra for the ambience, service & pampering by marketers, for e.g. , "would you like to have some tea or coffee while shopping"!!!






From Mehndi in Punjabi Weddings & Sangeet in Sindhi Weddings to Mehndi in Tamil Weddings & Sangeet in Malyalee Weddings. Thanks to Bollywood & other media which have exposed the Indian Consumer to the world of glamour & extravaganzas. Now the modern consumers don't mind spending on anything which can add allure & fun to their lifestyles.






From "Fair & Lovely" to "Fair & Handsome". Yup, it's very much true. With increasing westernization, more & more Indian Consumers are getting conscious of their looks & personalities & if you think that only Indian females are conscious of their looks then take a look around. Gone are the days when cosmetic companies used to woo only females for makeover, infact the Indian Male Consumer now forms a good 30% of the total cosmetic products consumption changing the whole concept of cosmetic products selling in India. Hmmm…so the changed face of Indian Consumer isn't having only fairer females rather fairer males too :-)






From HMT, Titan watches to Esprit, Tag Heuer Watches, from trousers stitched by neighborhood tailor to Pepe or Lee Denims, present Indian Consumer has seen the world, is well aware of international brands & is very much capable of affording all such brands. What used to be commodities with aspirational value are now the general commodities.
Well, if we keep on listing such changes, I think the list can go on & on, be it the phenomenal increase in usage of Laptops, successful establishments of food outlets like Mc Donald's or increase in sales of sophisticated gazettes like ipods, you name it & the present India Consumer is well aware of all such things. Indian Consumers have undergone a sea change & it is this new face of Indian Consumers which have given confidence to big investors & MNCs for believing in India. As Christian Seiwald, CEO of Sandoz GmbH said, "It's the speed - how quickly people are moving. It's their passion and ambition. Execution is something other countries can learn from India."

Earlier a person used to posses a car or a house in his late 30s or 40s but now having a 4 wheeler or house is a thing of late 20s or early 30s. The worried Indian Consumer who used to have difficult times in meeting both ends & always believed in "Save For Future" is now very much enjoying the life with a motto of "Live Life King Size". The earning capacity has increased & so has got the disposable income. Thanks to booming economy & IT/ITES companies which have contributed in a considerable way to change the face of India. Last but not the least the biggest & the roaring pointer indicating the changed face of Indian Consumer:



From "Civil Services" to "MBAs" & from "Defence Jobs" to "IT Jobs".
Do I need to say anything else? I am sure not!!!